So far my fall garden has been hard hit by heat ( what is up with 100s in late september?), hard hit by snails and birds, and kept at bay by the summer vegetables still hanging on. The lettuce I planted a few weeks ago has been hard hit by the heat. Most of the seeds in the ground did not sprout and those that did were attacked by snails. I did have some success with the ones I planted in my old wheelbarrow. The kale sprouted but was hit hard by snails also. I've been busy with a flashlight after dark hand picking and diposing of those slimy guys. My carrots have also been hit hard by the heat. The broccolli, cauliflower and potatoes have started wonderfully. My tomatoes are still going strong with many tomatoes ripening as well as many green ones still there. The eggplant is still doing well also though they have stopped flowering so this should be the last crop. Peppers flowered like crazy weeks ago and many peppers in various stages of ripening. I planted a second crop of radishes today as the first crop is nearing maturity. I also am hoping the weather is truly going to cool as I planted more lettuce today.
The potatoes mulched with alfalfa.
Radishes, carrots and kale.
Broccolli, cauliflower, and cabbage mulched with alfalfa. Trellisses for newly planted sugar snap peas in background.
Peppers going strong.
Tomatoes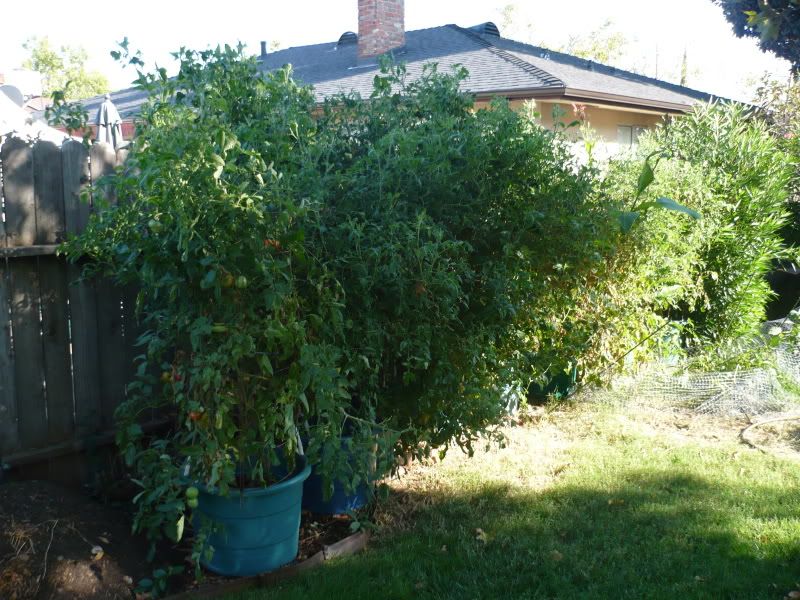 If anyone is interested I have a box of miracle grow for tomatoes and some compost bins I want to give away.