I was hoping to put up some pictures of some garden produced meals as well as the recipes but my back up camera had went AWOL with my daughter until this evening and my main camera is useless because I have misplaced the charging cord. The garden has continued to produce well even with the lower temperatures. I am getting quite a few heirloom tomatoes as well as the Early Girls and Patios. The Ichiban eggplant continues to produce way more than we can eat so the neighbors are getting alot. The bell peppers are coming on strong also. Looks like I'll have way more Banana Squash that we'll use over winter as well. I've been getting ready to start my broccolli, cauliflower, and cabbage from seed might wait until we return from Fort Bragg in 2 weeks.
This week I prepared a quick and easy garden combo pizza with garden grown produce and a few other items. I also prepared chicken sausage and peppers(including other vegetables) as well as some fresh caught King Salmon and trout today with potatoes and vegetables with a wonderful salad including cherry tomatoes and cucumbers from the garden.
Garden Combo Pizza
1 Boboli pizza crust
1 packet Boboli sauce
1 package Sargento 6 Cheese Italian Blend
1 Ichiban Eggplant
2 Heirlom tomatoes
1 Walla Walla Onion (I didn't use my Reds I grow as I like sweet onions on pizza)
4 Slices Ham Lunchmeat
This was an extremely easy recipe and takes less than 20 minutes start to finish. Assemble all ingredients together like any pizza and bake at 350 for apprximately 15-20 minutes.
I think I'll make a BBQ Chicken pizza with veggies next week.
For the chicken sausage and peppers I used:
1 package or 5 links chicken dinner sausage( whatever flavor you enjoy)
3 Ichiban Eggplant
1 Yellow Summer Squash
1 Zucchini Squash
1 Red Onion
1 Each Red, Green, Yellow, and Orange Bell Peppers
4 Cloves Garlic
4-5 Heirloom Tomatoes
Put a small amount of Olive Oil in a frying pan and start cooking sausage. While chicken is cooking cut up all vegetables. Remove chicken sausage when cooked and start cooking garlic and onions. Cut sausage up into 1/2" to 1" chucks and return to pan when onions are clear. Add all vegetables and cook until done. Serve with tortillas, on rice or alone.
The salmon and trout I caught today were prepared whole and cooked on the BBQ wrapped in aluminum foil. They were sprinkled with salt and pepper and stuffed with butter, dill flower head, chives, onion and a slice of lemon.
Todays Salad
Todays Picking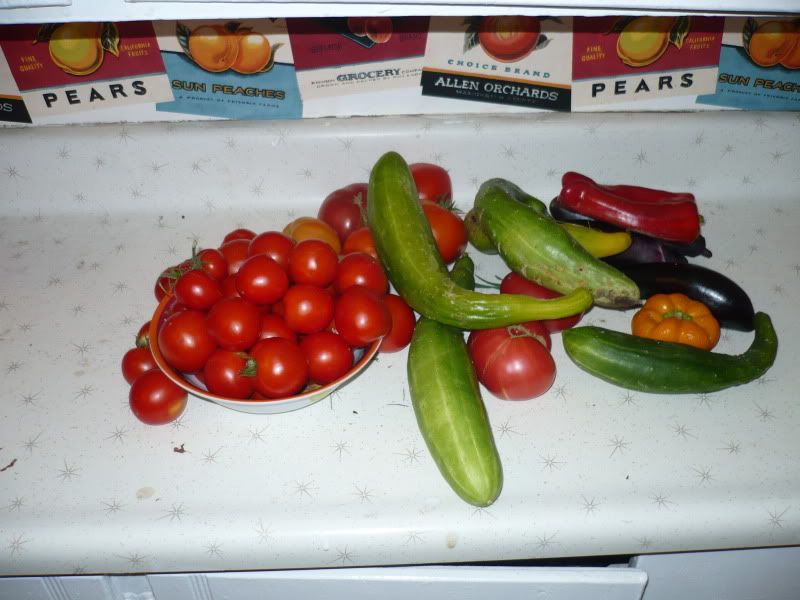 Bees Working on Sunflower
Big Head Drying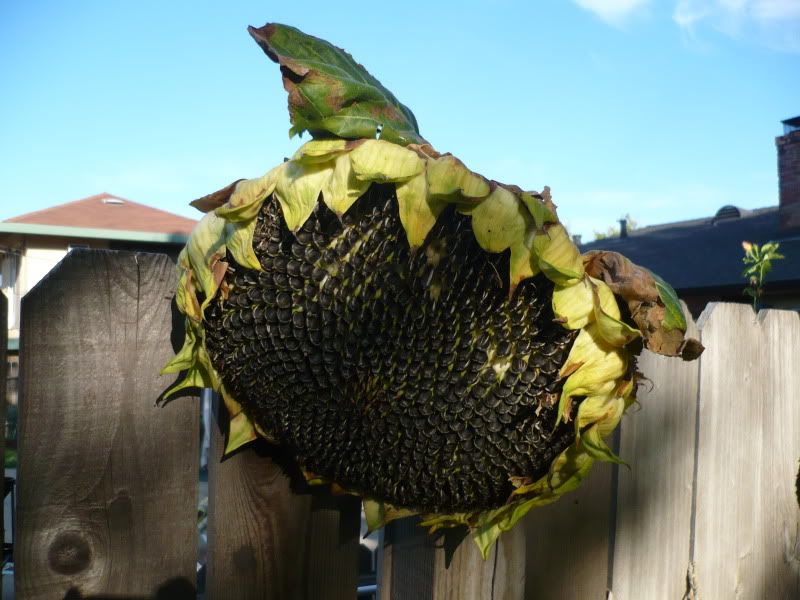 Orange Peppers Almost Ready Again
Banana Squash
Rose