Spent the weekend getting the trailer ready for the trip to the coast. I decided to detail the frame as well as fix what had broken since last trip and pack it. The detailing the outside took more time than fixing the one part that had broken (a LPG line).
I've been harvesting some tomatoes daily to use and/or give away to neighbors. Today I harvested any tomatoes that would be too ripe before our return. I ended up with a nice pile of Cherokee Purples, Brandywines, Abraham Lincolns, and Mortgage Lifters.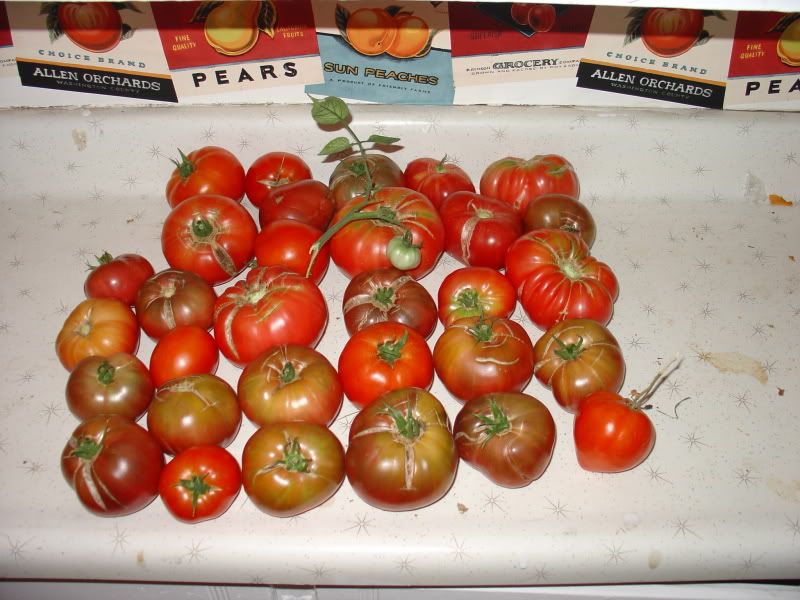 With the eggplant, onion, and various color bell peppers I harvested I made a venison stir fry.
Todays fixing, packing, and picking up necessities, was interrupted by a trip to the Fountains here in Roseville to visit the Orvis of garden stores, Smith and Hawken. I have only been to the Fountains to hit up Whole Foods for my favorite beer, Pliny the Elder, and to look at Orvis. I was fully expecting Smith and Hawken to be an overpriced store catering to the more affluent of Roseville and Granite Bay. I was not let down. While having some very nice things to look at, it all was very, very, overpriced. Some items that are available at local megastores also were four times what they cost at a discount megastore. Smith and Hawken is already closing this store and items are currently 20-30% off. I guess even the more affluent are tightening their belt.